Hello from India! I didn't officially announce any hiatus, because I would really like to keep a bit of a travel blog while I'm here, but as I was warned, the internet is sporadic and slow and I am really ridiculously busy. The part of India I'm in is called Gadchiroli, which is a very small and poor district of the state of Maharashtra. I'm doing a research internship at a community-health focused NGO called SEARCH, which I think I may have mentioned before. A large part of my project involves reading research papers, so instead, I'm going to focus on the other adventures I (and the other interns) have been having!
We have Sundays off, so two of the other interns and I decided to explore the grounds of the facility for the afternoon! We climbed trees and ate chikoo (an Indian fruit) and ripe tamarind right off the trees and saw a chameleon! Though, to be fair, chameleons haven't been the most interesting thing I've seen here so far. There was a baby cobra just outside our guesthouse a few nights ago! And I've seen 3 snakes in the 5 days I've been here!
A major part of what this organization does is help treat newborns in rural communities by training and empowering local women to make observations about and provide care for newborns in extremely poor, rural communities. Their original field trial of this home-based neonatal care system brought the neonatal mortality rate in this area down by almost 50%! Vandana-tai (pictured) is one such village health worker.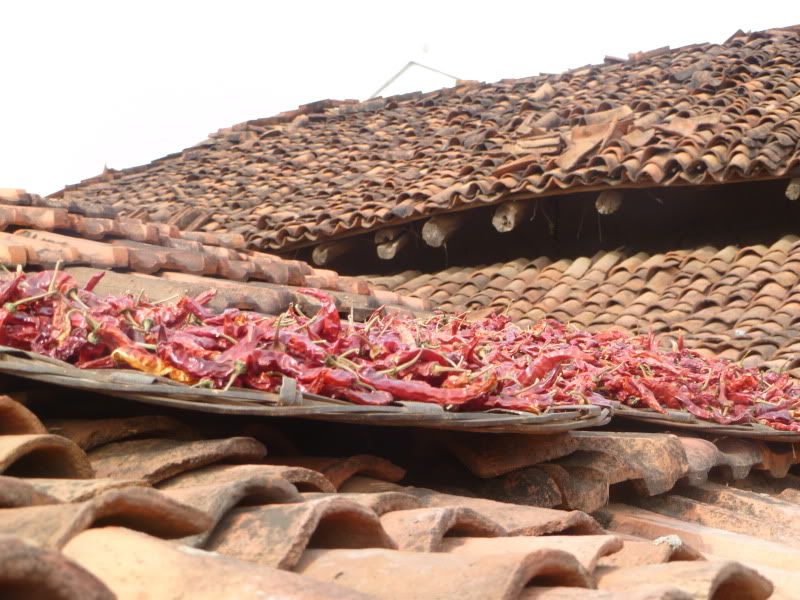 SUPER SPICY peppers drying on the roof of a shanty-house in one of the villages. Another intern took this picture, but I thought it was artsy and cool, haha.
A major factor in starting SEARCH was this broken bridge. A mother with a sick child were trying to get to the doctor who started the organization's (Dr. Abhay Bang) clinic, but couldn't cross the river because the bridge was broken and the river was flooded. They waited till later in the night when the water had gone down a little bit, came to his house and he tried to treat the child in his own bed, but unfortunately the child didn't make it. This experience pushed him to think about how healthcare could be effectively disseminated without having to make arduous journeys to the few hospitals in the area, and thus, this organization was born.
And so naturally, we decided to jump and climb on the ruins like the young children we all are. They looked so much like some crazy ancient ruins! It was immense fun!