I am
so. over. winter
. I can't say I hate a whole lot of things, but having to wear multiple pairs of pants just to tolerate the weather (not even to be comfortably warm) just topped my list. If it doesn't start getting warm (or at least consistently sunny) pretty soon here, I will probably go insane. My whole winter hasn't been grumpy though. Here are some tidbits I uncovered on my phone, including an outfit post!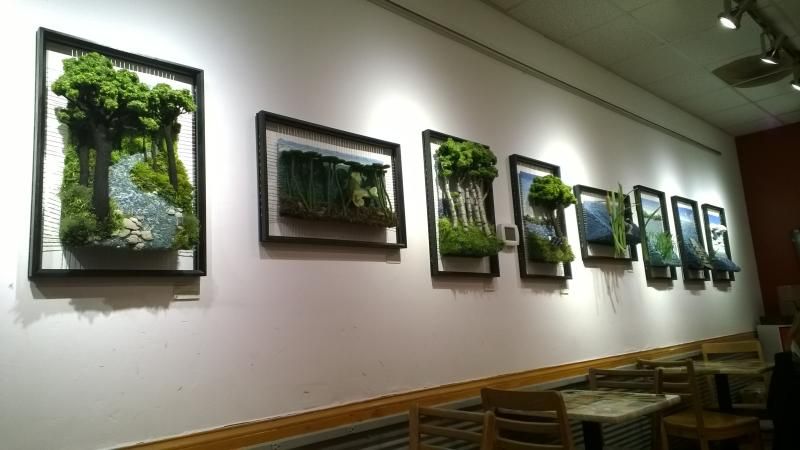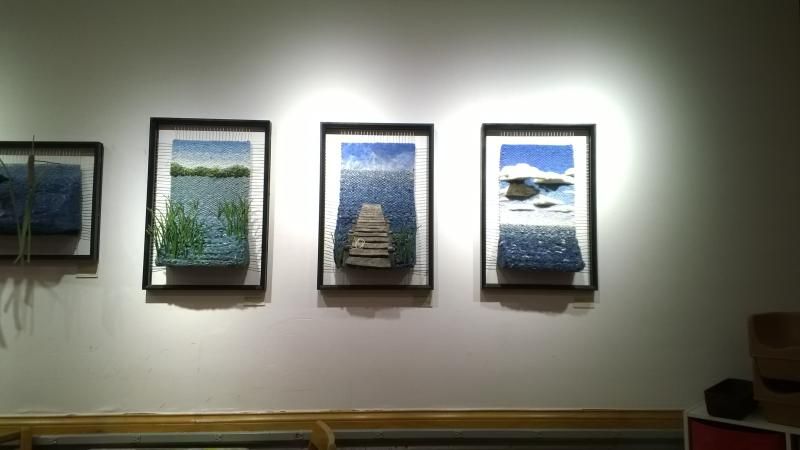 Stepped out of the cold and into a favorite bagel shop one day to find these
stunning
loom art pieces. This is 100% the kind of art that I would like to have hanging in my future-house. Too bad even one of the less-intricate ones of these guys cost upwards of $800.
Been spending a lot of time cuddling with this precious little pumpkin and she's not even mine. There's a good chance that when N's roommate moves in a couple months, I will never see her again so I have been stocking up on phone pictures....and trying not to think about that awful day too hard.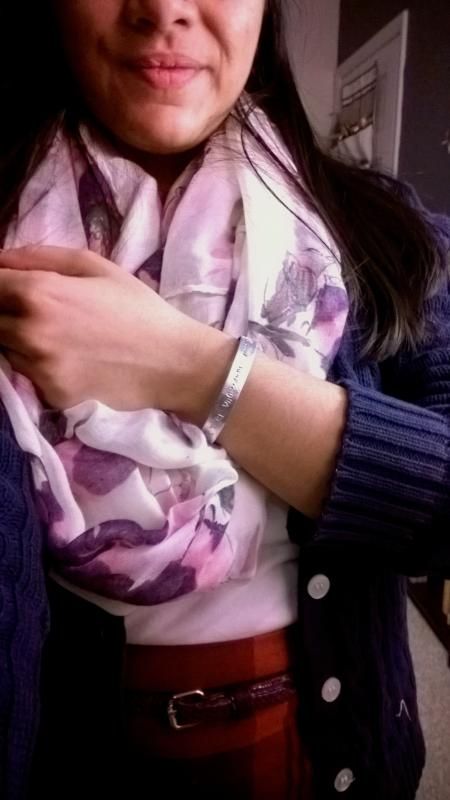 Top: Target;
Sweater: L.L. Bean, thrifted;
Tights: Target;
Skirt: The Limited;
Scarf: Charlotte Russe;
A recent work outfit that got thrown together, but turned out to be one of my favorites! I topped it off with one of my favorite bracelets from Etsy, engraved with the quote "Not all those who wander are lost." from
The Lord of the Rings
, and then proceeded to have an excellent day full of outfit-confidence.
I tried
this
place a couple weeks ago. It's an unassuming little spot of burrito delight in an otherwise decent-Mexican-style-anything-bare part of the Midwest. Instead of a burrito, I opted for the Zappatista Salad, which was basically a nacho salad with some fresh homemade salsa and let me tell you, I went home extremely happy that cold night.
Some friends had a 50s Hollywood themed Murder Mystery Dinner Party for their birthdays, so naturally I rollered up my hair and gelled N's back, and we got a little fancy. I was playing a judgy, loud-mouth, 62-year-old cougar talk-show host who thought the deceased was in love with her. N was a film director who had worked with the deceased actor and, as it turned out, killed him!! Apparently, N has a career in acting, because we definitely talked about our characters and I didn't have the slightest clue until the big reveal at the end of the party!
And last, but certainly not least, Valentine's Day. As haters of lines and crowds and cliches, our big V-Day plans were "Mimosas and Samosas" and doing a puzzle together! Let it be known that this was N's clever idea, and not mine, but since it involved barely having to venture out into the cold and some of my favorite things, I thought it was absolutely perfect.