Spring Break
I work in infectious disease outbreak management and due to several high-profile outbreaks in my area in the last few weeks, I have been working 10-12 hour days for nearly the past month. Feeling thoroughly burned out on work and desperately in need of time away from my job, I took yesterday and today off and N and I went on a little mini-spring break to St. Louis. I didn't appreciate how good vacations, even small ones, feel when you've worked your ass off leading up to them. College finals have had nothing on my level of stress this past month. I want to share a little of our fun break with you all, but first, an outfit post!

Dress: JC Penney;
Cardigan: The Limited;
Boots:Payless;
We didn't have a lot of time and had a lot of things we wanted to do, so we tried to pack in each day with as much as we could. The first night, we stopped by the
Schlafly Tap Room
. Schafly is a St. Louis-based brewery, and they make one of my all-time favorite pumpkin beers. Of course, we weren't there to try beers we already liked, so between the two of us, we got flights of all their drafts and casked beers and made a go of it! Their Tasmanian IPA and casked Coffee Stout were definitely my two favorites.
The next day, we had packed the
City Museum
, the Arch, and the City Garden into our day's plans. The City Museum is a discovery center/museum playground type location, came highly recommended from a few friends, and did not disappoint. I would highly recommend it if you're ever planning a trip to St. Louis and make sure to pack some sneakers! We walked to most of our destinations since our hotel was relatively close, but this day, I hit a personal high of almost 23,000 steps!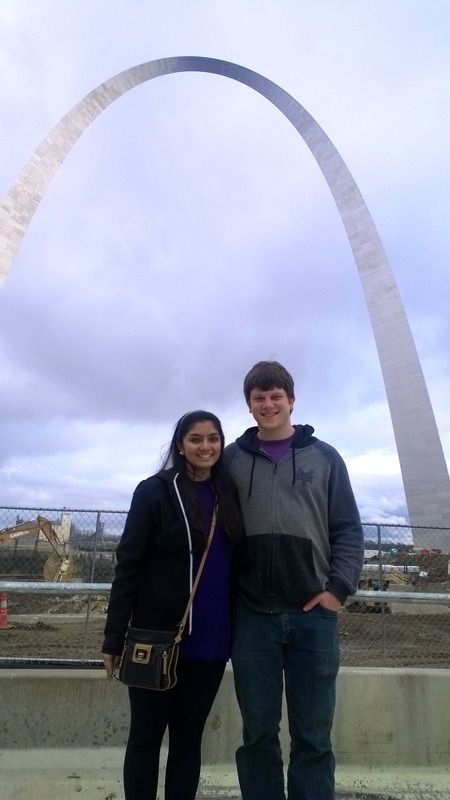 The last day we went to the famed
Forest Park
. Larger than Central Park in NY, this park houses the Science Museum, History Museum, Art Museum, the grounds of the 1904 World's Fair, the Municipal Theatre, and a ton of other cool attractions. We only had time to explore the science museum and history museums and do a little walking around the park before we had to leave, but I think you could make a day of this place and it would be well worth it. We enjoyed this amazing sunset while leaving and came home exhausted but feeling twice as relaxed as when we started.