The Slopes
In the last few days, the cold weather's got me day dreaming about skiing. Being a Phoenician, seeing snow was rare. Well, in Phoenix, it was non-existent, but you know, occasionally we went places where it snowed. My earliest memory of skiing is going to Eldora resort in Aspen, Colorado when I was 7. I'd played in snow before, but there was something really beautiful about seeing a huge mountain top covered in a blanket of pure white, untouched powder. And then, I got to fly down the mountain at break-neck speed (read: pizza-position it down the bunny slope) and I was hooked. Since then, my family's gone skiing almost every year, and as winter comes closer, I start fantasizing about the next time I'll find myself blazing down a blue diamond (which, I can actually do now!).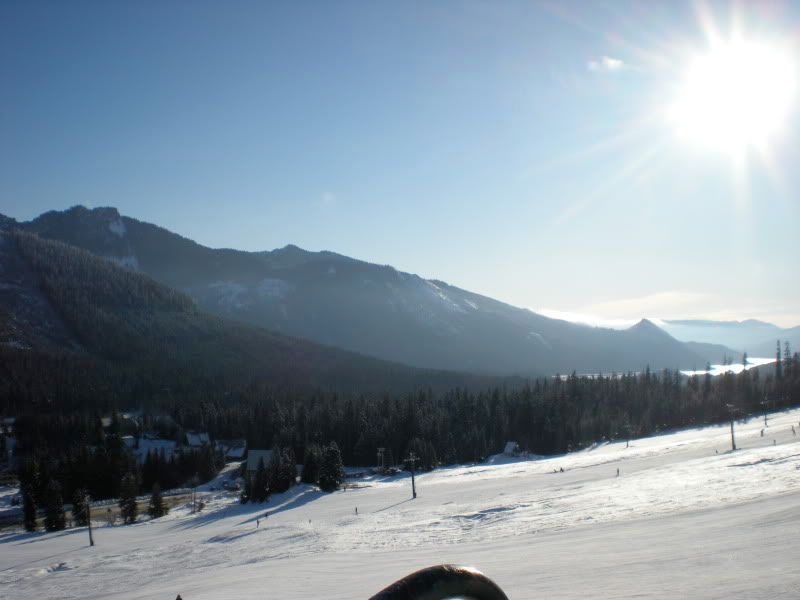 Snoqualmie, Seattle.
Yeah, I took this on the ski lift at significant risk to my life.
It's so serene to get up at this obscenely early hour and go to a place where it's peaceful and cold and you're all bundled up. I love feeling chilly wind in my hair and on my face (well, until my nose feels like it's going to fall off from frostbite). This ski season, I want to plan a trip with some of my friends and maybe learn to snowboard. It'll be a lot of planning work, but I think it will, as always, be worth it.
Wizarding Wisdom:
8 DAYS!!
"Never trust anything that can think for itself if you can't see where it keeps its brain."
-Arthur Weasley