Fixtures
I'll be the first to admit I'm kind of a sucker for innovative bathroom/kitchen fixtures and design. Remember those commercials for the 360˚ spa showers? When I was 8, I wanted one of those for Christmas. My mother sort of nixed that idea, seeing as I'm pretty sure they are thousands of dollars, but my love....hasn't subsided. Here are some awesome fixtures I've come across lately. In my future-home, there will be one of each kind in every bathroom, to fit the theme!!

Yes, there is a stick-shift to choose spray strength.

Okay, so to be honest, I wouldn't want a random drain on the ground by my sink, just because I think that'd get messy, but...how cool?!

Chic and sleek.

Pretty, if not particularly efficient. But, pretty!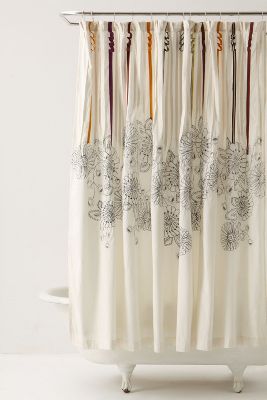 Adorable Hanging Garden Shower Curtain from Anthro.
I have a lot of things I have all planned out to buy for my future-home. The reason I put the dash in there is because the chances are good that this ideal house will always remain just a little bit further in the future. I can dream, right?

My current desktop bg, complete with countdown!
I'm going to end this post with a new feature. So, the premiere of Deathly Hallows Part I is in two weeks, which I think is close enough to start an official blog countdown. In that spirit, I will be ending all posts from now till then with some Wizarding Wisdom or some of my favorite quotes from the books.
Wizarding Wisdom:
"And now Harry, let us step out into the night and pursue that flighty temptress, adventure."
-Albus Dumbledore