Lust List: Indian Clothes
To be honest, the alternate title for this post was "Things I Really Wanted to Buy in India, But Couldn't Because I Am Not A Size -2 Nor Is My Bank Account That Of A Mafia Don, or I Simply Forgot And Am Kicking Myself About It Now" but I thought that might be a little long. And so, this week's Lust List!

I'm a huge fan of square necklines.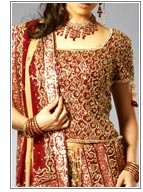 You better believe the earrings are as awesome as the necklace.





I am incredibly upset with myself for forgetting anklets!





Bindis!





Amazing sari/jewelry/hair combo rocked by none other than Miss Priyanka Chopra.